Are you considering starting a new career as a fashion stylist and want to take the next step?
Well… you've come to the right page!
As a Stylist, I get asked a lot of questions about what I have to do on the job. This page will give you all the basics I have picked up on my Stylist Journey
Things To Consider When Shopping/Pulling For A Client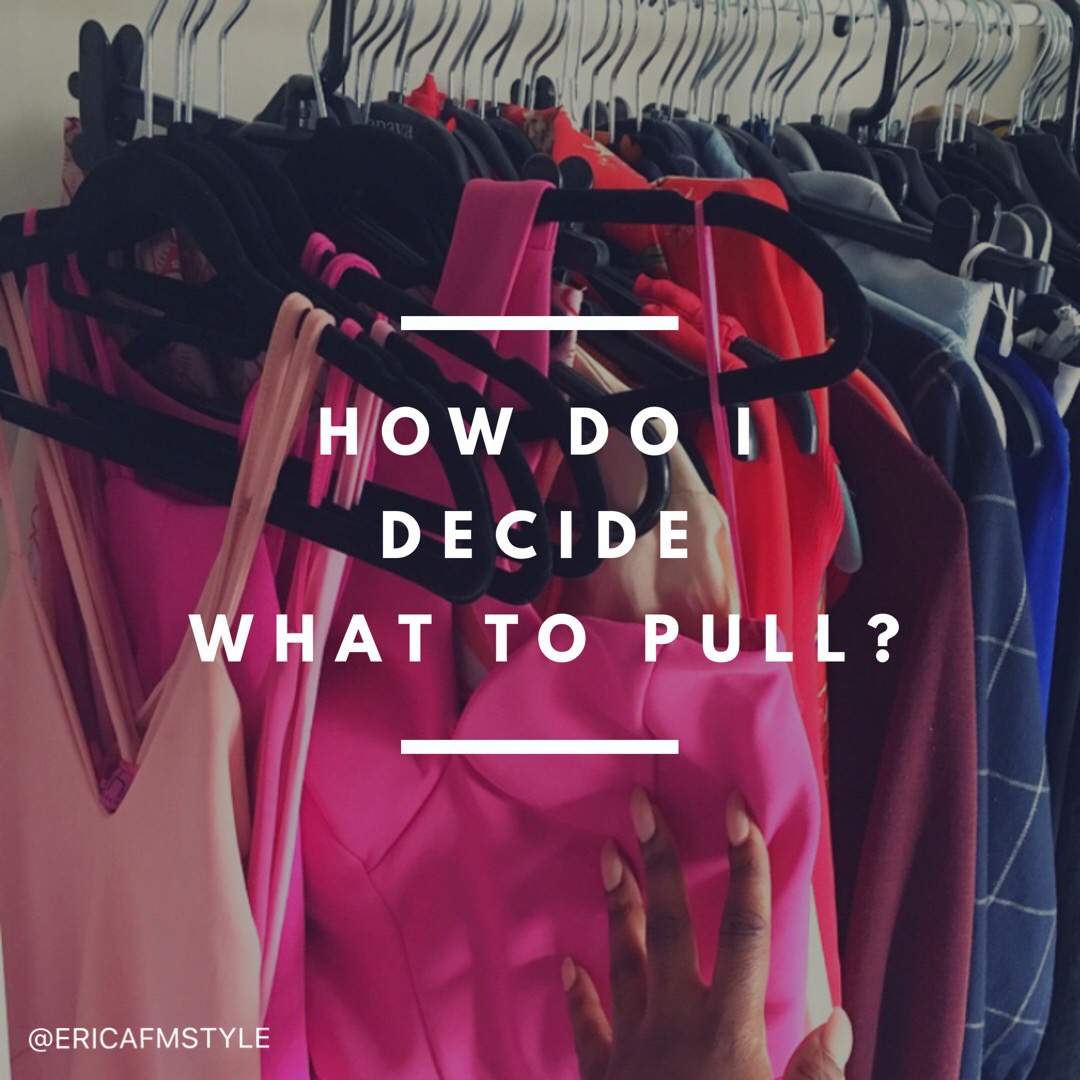 I hope your following me on Instagram… If not then you missed this post! @ericafmstyle @byericamatthews
I get questioned regularly on "How to pull/get clothing from a brand?"
(Check out my YouTube for a step-by-step guide on how to do this! CLICK HERE)
So here's the scenario… You've managed to get an appointment to pull some clothing for a client – now the big question is..
"how do you choose what is right for your client?"
(I definitely think I'll do a YouTube tutorial on this…)
So I am going to give yu some tips – in brief. On what you should consider when 'pulling' for a client:
– Colour palettes
– Body Shapes
– Brand Customer/The Occasion
– The Product focus (clothes must compliment key product/best features)
– Clients Final Opinion
Watch & Learn A Day Out Pulling Clothing!
Q&A | I Answer Your Fashion Stylist Questions!
Fashion Stylist Tutorials | My Top 15
Fashion Stylist Keywords Explained!
How to Become A Fashion Stylist?
Part 9/10 'Visual Sense & Trend Awareness' *Finale*
Fashion Stylist Tutorials | How to Become A Fashion Stylist?
part 7/8 – 'Networking & Confidence'
Fashion Stylist Tutorials | How to Become A Fashion Stylist?
part 5/6 – 'Versatility & Open Minded'
Fashion Stylist Tutorials | How to Become A Fashion Stylist?
part 4 – 'Hard Skin'
Fashion Stylist Tutorials | How to Become A Fashion Stylist?
part 3 – 'Dedication'
Fashion Stylist Tutorials | How to Become A Fashion Stylist?
Part 2 – 'Energy'
How to Become A Fashion Stylist?
Part 1 'Good Organisation'
Pulling/ Calling in Designer Brands &
Sending Emails Made Easy!
Mastering A Photoshoot
The Stylist Tools Kit
I JUST FOUND THE PERFECT VIDEO Q & A FOR ALL BUDDING STYLISTS!!
http://www.videojug.com/interview/working-as-a-fashion-stylist
Fashion Stylist Tips: Protect Your Pumps!

When I have to pack shoes for a shoot and want to protect them and the clothes (of course), sandwich bags are the PERFECT solution!
Thank me later! xxxo
What are the different body shapes?
When styling, one of the basics is working out what body shape you or the person you're styling (client) is. This basic information will help you find the right look that will bring the best out of you or your client.
Pear
This body shape is also known as the triangle. This is the most common body shape for women.
How do I know if I'm Pear shaped?
Your hips are wider than your shoulders

Usually a slender upper body

Full hips and bum
How do I style a Pear body shape?
Use the trick of colour shifting. Using darker colours causes an illusion of slimming down body parts. Choose darker colours on the bottom half.

Use Neck jewellery to take the focus to the top half of the body.

Using wide necks and 'V' necks help to broaden the shoulders.

Use Empire Cuts and 'A' Line dresses/skirts help to camouflage wide hips.

If you were to eat some

Krispy Kreme Doughnuts

… it would go straight to your thighs and bum
Beyonce – Pear Shape
Another Body shape connected with pear shape is the:
Inverted triangle
This is where the Shoulders are wider than the hips; this is usually accompanied with a medium to large bust.
You style this in reverse of the pear shape. Dark colours are worn on the top. The use of low and narrow necklines and shoulder pads will help to narrow the appearance of shoulders.
Hourglass
This body shape is also known as 'Curvy' *grrr*. This is the most desired body shape to the female… and yes ladies.. MALE race!
How do I know if I'm hourglass shaped?
Equal shoulders and hips

Usually medium to full breasts

Well Defined waist

IF you were to feast on KFC for a Few days… It would go straight to your breast or thighs and bum
How do I style a hourglass body shape?
This body shape has the upper-hand in wearing fitted clothes… it definitely gives a more 'classy look' so definitely use fitted dresses or pencil skirts etc.

Use waist belts or clothes with waist definition i.e. 'A' Line dress.

The use of a shift dresses are also flattering especially if you want to minimize the hips.

'V' neck lines are also A must.
Megan Fox – Hour Glass
Apple
This Body shape is also known as the Oval and Diamond Body shape. It's SUPPOSED to be a difficult body shape to dress because the top half and bottom half are two different sizes.
How do I know if I'm apple shaped?
Mid-Section of the body is wide

No real Waist definition.

Waist is usually equal to, or larger than shoulders and hips

Narrow shoulders and Small hips

If you make crisps and chocolates your Snack all day everyday… it will go straight to themed section
How do I style a Apple body shape?
The use of colour shifting also works for this body shape. Using darker colours on the top half help to minimize the look of it.

The use of completing a whole outfit with the same colour can also make an illusion of the whole body being equally proportioned.

This body shape usually has slimmer legs than Pear or Curvy.. So take advantage and use shorter skirts or maybe this seasons tailored shorts.

Use THIN belts, this helps to subtly bring definition into the waistline.

Use of Earrings or Necklaces help to bring attention up to the Face and take it away from the mid-section.

The use of 'V' Necks can also help to bring the eye line down to the centre of the body.

AND LADIES… this is a must to help secretly cinch in the mid section of your body… SUPPORT UNDIES!! It doesn't have to look like Bridget Jones' ones.. All leading retailers are selling simple and glamorous support underwear.
queen Latifah – Apple
Boyish
This body shape is also known as the rectangle and straight body shape. And although This Body shape is favoured in fashion industry
How do I know if I'm Boyish shaped?
Hips and shoulder width are equal

Usually small bust

If you were to pig out on Pizza Hut everyday… lucky you… it will SOMEHOW evenly distribute itself over your whole body… (cow) *jealous*
How do I style a Boyish body shape?
The use of wide waist belts help to create definition into the waistline

Bold prints and horizontal stripes are good for the bottom and top of the body.

'A' Line dresses or skirts help to create an illusion of a defines waist and hips

Overall, this body shape is the EASIEST to style.. pretty much anything will look good as long as it is not to Baggy (you will look like a drowning cat) or to small you will look like a 11 year old boy (Just being honest)
Meeting Stylists
At the BNTMLive expedition held in The Excell centre I was Lucky enough to meet Lyn Bromley who is one of 'First impressions' Image consultants.
Who are First Impressions?
First Impressions advise people on how to manage their appearance so that it's appropriate for every situation. Whether it's a social or in a business context, they provide image skills training for those wishing to pursue a career in the fashion industry.
Their work ranges from one-to-one or small group consultations, through to presentations, seminars and practical workshops in both the private and corporate markets.
How First Impressions believe you can look good?





My Notes from First Impressions
Become your own muse… the best person to try the looks out on is yourself!
Pay attention to key trends of the season and INVEST!
Learn to 'Edit' your wardrobe… If your not wearing it.. BIN IT!
AVOID impulse buying, it's probably not going to be much use to your wardrobe..
Buy YOUR size… everywhere you shop your size will fluctuate.. so cut out the label if the size you have bought bothers you that much.
MIX IT UP!.. The best outfits consist of a mix of brands.. get the best of all worlds and show of your creative and style hunting skills.
Be confident! Feeling confident in what you're wearing will radiate on the outside.
Gemma Cartwright

Name: Gemma Cartwright
Location: London
Blog: http://www.catwalkqueen.tv/
Job: Fashion Editor of catwalk queen & Big Girls Browse

Who are Gemma's style icons?
I wish I was Zooey Deschanel. When I saw her in the same blue H&M dress that I own, I got very over-excited that we'd both spotted the same bargain. I've also got a highly predictable Marilyn Monroe obsession and love watching old movies for inspiration. I am a bit of a caricature of myself, really!
What are Gemma's pet fashion hates?
Forced 'quirkiness' – that Lucky Magazine thing of putting together two items that really don't go, just to 'mix it up'. Sometimes it works (particularly on young student hipsters) but 90% of the time it screams 'trying too hard'. I also hate Crocs, embroidered denim and exposed midriffs.
Gemma's big style secret!
Trust your instincts. And your mother. And learn to sew!
My notes from Gemma Cartwright
SCRAP BOY SHAPES! Instead of focusing so much on what shape you are and focusing on how to dress that shape… WEAR WHAT YOU LOVE!!

Wear the Right underwear and size clothes.

Experiment with clothes, try on or buy something you probably wouldn't buy i.e. Jumpsuit

Waist belts are an important body re-shaper.. it gives a magnified illusion of a smaller waist.. INVEST!

Invest in non European waist sizes. They are based on your actual waist measurements, so they will fit much better i.e. TK-Maxx.
Clare Watson
Name: Clare Watson
Website: www.Miss-dress.com
Twitter: @Missdress
Job: Personal stylist, Stylist
About Clare Watson:
ARVE Error: id and provider shortcodes attributes are mandatory for old shortcodes. It is recommended to switch to new shortcodes that need only url
Clare's work has covered all areas from high end fashion magazines, mainstream commercials and celebrity shoots to personal shopping for individual clients. Some of her clients to date include; BBC, Channel 4, Guardian Newspaper, Glamour Magazine, Hello and Grazia. She has also worked with the likes of Model Naomi Campbell Hollywood actresses Renee Zelwegger, Mandy Moore and Amber Valetta as well Duran Duran, Jamelia and Will Young.
What I love about Clare is the practicality in her demonstrations… We are all HUUUGE lovers of high street fashion and she LOVES styling for real women without that celebrity price tag.

My notes from Clare Watson
Season Must Haves:
As featured on my 'Fashion Trend' page, Clare highlights on the importance of the colour 'Camel' being a MUST HAVE for this autumn/winter. She suggested it being injected into our wardrobes via trousers, tops, coats and bags etc.
Another season must have is 'Tailored Shorts'. The good thing about tailored shorts is that it can easily be dressed up or down for daywear and eveningwear. Clare advised that they are to be paired up with a nice top (demonstrated a lace top) and opaque tights which gives the illusion of elongated legs.
The next two season must have is the maxi (floral maxi) and the Faux fur Gilet (you can see an outfit selection of mine on the Fashion Trends page) which looks amazing when paired together. This outfit can easily be styled up with flat or heeled boots, a nice waist belt and statement jewelery.
The waist belt was another season must have that Clare suggested.. she also gave a brilliant tip:
'When choosing a waist belt, whether thin or wide. Choose one with either a round buckle or a rounded shape strap. This surprisingly makes a difference to make the figure look slimmer..'
*I HAVE TO TRY THIS!!*
Leopard Print Is this seasons 'Micro Trend', in other words its perfect when solely injected into accessories.
And I agree because having an accent of a statement print makes much more of an impact to an outfit.
Wedge shoes is another Season Must have *I AGREE*
I believe whatever style, colour or Texture.. it gives you so much length in your legs.. and from my tried and tested.. its comfortable on the feet. It's also a good opportunity to show of some trendy ankle socks.
The envelope bag is another season must have.. and what better way to wear it that to get one with this seasons texture trends… 'Embellishment'.

Body Shapes:
How do I dress for my body shape?
I quite liked Clare's idea of how to work out your own body shape.
Stand up straight and run your hands down your waist and hips.
*Learn something new everyday*
Straight – The perfect Seasonal trend for this figure is the leather skirt especially with a 'A-line' cut. Also the tulip dress which we can now bring back out of the bottom of our draws * YAY* and the tailored short.
Pear – A flared trouser would be perfect for this shape as well as an 'A-Line' Cut. A wide waistband is a Must have essential which can be either worn in Camel shade or a bold print (bang on trend). Also Tailored shorts can work for this body shape, as you luckily will have slim legs.
Hour glass – This shape usually has a Big bust, so Clare advised to either wear it with a high or wide neck no matter what you wear for this season i.e. strapless A-Line dress or tunic.
Apple – Clare advised to Layer the items of clothing using a lot of texture on the Front, the leather skirt will also work for this figure, and darker shades for the top half.
THE IMPORTANCE OF UNDERWEAR
Silk and Vintage Lace Balconette Bra from Topshop – £18.00
The basics to a good outfit is good underwear!
Now put your finger underneath your bra strap… If you can fit more than one finger underneath it.. you're wearing the WRONG size.

If your bra is on the tightest hook… you're wearing the WRONG size.
A bra has a life span of around 6 Months. A popper fitted bra should be on the last hook, after it gradually looses its elasticity it is to be moved in a hook.
Clare suggested that investing in a Balconette bra (pic above) is a must. It is one of the key shapes which offers sexy support as well as preventing that unattractive 'barmaids bottom cleavage'.
Clare mentioned a good fitted bra is based on a good fitted bust area..
Size 8 – 30 inch bra
Size 10 – 32 inch bra
Size 12 – 34 inch bra
The importance of a perfect pair of jeans
ASOS William Rast Tony High Rise Zip Jeans – £54.00
Jeans play such an important part in a lot of our wardrobe… so it is important to invest in the perfect fitted pair! Clare suggested the perfect style jeans are 'high rise' jeans, they give great comfort and reduce the dreaded builders bum effect. She also suggested that Bootcut jeans are the best fit jeans to buy as they create a perfect balance in all body shapes.
More to come…