Kiss Cosmetics
'Faux Mink' Lashes!!
The only drama I need in my life right now is in my lashes!
I was very happy to try out these stunning Kiss cosmetics – cruelty free 'faux mink' lashes! (That was a mouthful). For a few years I've tried to steer away from false individuals and opted for game changing lash strips! I definitely always go for lashes which look natural, fluffy and have a cat eye feature to suit the shape of my eyes. In the above picture I am wearing The style called 'little black dress' and from my smile I hope you can see it was a little bit of love at first sight! I mean… seriously!! How natural do they look!!?
Watch Them In Action:
My First Impression…
Am I the only one who gasps when it comes to makeup? I pulled them out of the package and did a little squeal! Sometimes less is more and I love everything from the simple packaging all the way to the fluffy appearance of the strips!
What did I think?
As I reluctantly opened it up (because I didn't want to ruin the packaging) I noticed it unfortunately didn't come with lash glue (make sure you read packaging so no surprises – lol). But I was quickly distracted by the soft fluffy texture of the lashes as I ran my finger along them.
I have mastered the art of putting on lashes which you can see here! These 'LBD Lashes' are stunning!
Lash Details:
More Selfie's…
My final Thoughts:
It's key features are:
– Natural look
– weightless and comfortable to wear
– Knot free lash band (Great for blending with liner)
– Soft and fluffy
I really like the quality and feel of these lashes! But most of all its 'natural look' is a HUGE winner for me!
Unlike many other mass luxury mink lash companies these lashes are a bit more affordable!
I rate this product…
9/10
Beauty Review 'Divine Lips'
by Joan Collins!!
Hello Colour!!
Spring is definitely in the air and I am excited to brighten up my make-up looks with this stunning lip colour from Joan Collins Timeless Beauty!! I am a lover of nudes, but when I put on some colour I love to go full on!!
I tend to go for matte colours because of my full lips, but I was glad when Alex Silver PR asked me to give this vibrant colour a try!
What do I look for in Lipsticks?
In a good lipstick I look for; Moisturised lips (I hate that uncomfortable stiff feeling), good pigment and buildable colour!
So lets see how well this lipstick does!
Watch me try it on!

Lets open it up!!
So I experienced a little of that 'love at first sight' feeling! Without a doubt the packaging for this product is STUNNING!!
Never judge a book by its cover! When I popped the lid off and saw the colour I was sceptical if it would suit my complexion. But the swatch removed all doubt!!
What did I think?
As I glided it on, the shade of pink was super HOT and popped against my skin! It's definitely full of moisture and the pigment is VERY strong. I worked it over a few times and the colour can easily be built up to get the colour pigment I want… I've struck gold with all of my top three lipstick must-haves.
Lets see it on!!
I'm sooo obsessed with this colour!!
As you can tell, I was feeling myself – just a little!
LMAO!
Final Thoughts…

It's key features are:
– Moisture (comfortable wear)
– Buildable colour
– Strong Pigment
– Suits Dark skin
Overall the quality and versatility of this lipstick is amazing!
It is very glossy upon application, so be careful not to overdraw too much (like i did in the video – lol!!).
Also, the product is so pigmented that it leaves a tint to your lips, so put a base of vaseline (or any balm you use) to protect your lips before application!
I rate this product…
9/10
Buy this Lipstick!

Shop My Make-up Look:

Lips:
Lipstick by Joan Collins Timeless Beauty
———-

Face:
Foundation by Maybelline 'Fit Me'
Cream contour kit extra dark by Sleek Cosmetics
Studio finish concealer 'NC50' by Mac Cosmetics
PRO Conceal 'Fawn' by LA Girl
Highlight Kit 'That Glow' by Anastasia Beverly Hills
Luxury Powder 'Banana' by Makeup Revolution
———-

Eyebrows:
Brow Cream 'Dark Brown' by Primark
———-

Eyes:
Eyeshadow #2 by Black Up
Faux Mink Lashes 'Little Black dress' by Kiss Cosmetics
———-
Cheeks:
Powder Blush 'Raizin' by Mac Cosmetics
Hope you enjoyed! xxxo
My FULL 15 Minute
Make-Up Glow Up Tutorial
For Dark Skin!!
I am no make-up expert! I pride myself in great skincare over beating my face for the GAWDSSS! But after a few nudges on social media, at blogger events and from my friends and family I decided to ease my way in to 'beauty tutorials' by starting with my 15 minute 'Glow Up' Make-up routine that I am sure you ladies will love!
I tend to free-style my make-up and started off not knowing what the hell to use but while experimenting I found myself liking what it done and how it looked!
This is my go-to look when I want to look glow'd up, but not like I'm out at the club type of glow!
I tend to be in tears or frozen in a horror whilst staring at myself in the mirror when my make-up looks caked up! I love a dewy – yet matt finish and LOVE when make-up looks like skin (my personal preference).
Easy Make-up is the way forward and I only apply product where it is needed.
There is much room to improve.. but I am always interested in improving myself! Let me know what you think!?
Shop The Products:

Face:
– Lancomeofficial Teint Idole Ultra Foundation – 13
– Mac Studio finish concealer – NC50
– LA Girl PRO Conceal – Fawn
https://www.amazon.co.uk/Girl-Cosmetics-Pro-Concealer-Fawn/dp/B00NY9M48U
– Sleek Cream contour kit – extra dark
– MAC Mineralise Skinfinish – Medium Deep
– Anastasia Beverly Hills – That Glow
– New look Baked Bronze Face Powder
– Makeup Revolution Oil Control Fix Spray
——-
Cheeks:
– MAC Powder Blush – Raizin
– MAC Mineralise Skinfinish – Dark Deep
——-
Eyebrows:
– Primark Brow Cream – Dark Brown
https://www.primark.com/en/product/dark-brown-ps-brow-cream,r35397119157226
——-
Eyes:
– Nyx Vinyl Liquid Liner – Black
– Eyelure Luxe Collection – Cameo
– Lancôme Grandiose – Noir
——-
Lips:

– Revlon Super Lustrous Creme Lipstick – Mink
– Vital Pencil – Dark Brown
http://www.ebay.co.uk/itm/Vital-Makeup-Eye-Brow-Pencil-Water-Proof-with-Brush-/262344890606
– Missguided Girl Gloss Lip kit
– Nyx Butter Gloss – Ginger Snap
More Of My Fav' Products!!
My Drugstore Fav's
Garnier Pure Active 3-In-1 Review!!
Let's face it *pun intended*, there are so many products out there in the market. Some good, some bad. Some expensive, some cheap! I've tried A LOT on my pursuit to great skin! I love make-up but I do love that random bare-faced day where my skin can breeeeathe!!
Everyday I have to put my best face forward, my PCO hormone balance means I have to battle with spots, hair and the marks they leave behind. So when I came across this beauty I was impressed!
I struggle with an oily t-zone/ combination skin – Just what this product is made for! I like to change-up my skin routine, so having the ability to use it in three different ways is definitely appealing!
Product Features:
Purify, unclog pores and mattify
Triple mineral action and salicylic acid
Dermatologically tested
It eliminates the need for a complicated routine by delivering 3 benefits in one product – it can be used as a wash, a scrub, and a mask for clearer skin that lasts. It eliminates excess sebum, unclogs pores and evens skin tone for clearer skin that lasts.
My First Impression:
At the price of £5.99, why not? I've definitely spent more when it comes to skin care products which only serve one purpose. This was a deal!
The texture of it is gritty and quite thick but it smells great!
How to use it:
Normal Daily Wash: Apply to wet face daily. Massage over the face and rinse thoroughly with water.
Daily Scrub: Every day massage the 3- in-1 in circular motions focusing on the forehead, nose and chin. I personally would 'scrub' longer about twice a week with this product and then Rinse thoroughly with water.
Face Mask: It's advised that 2 to 3 times a week, you should apply the product over your face, leave for 3 minutes and then rinse throughly with water (adding a light scrub when removing if necessary).
Like always, avoid the eye area and do not get int he mouth.
My Thoughts:
When I use this mask I get that reassuring tingle (that's the eucalyptus) which helps me vision all of the dirt and impurities being drawn from my skin – something good is happening!!
I love that it does exactly what it says it will do! It freshens, brightens and mattify's my skin instantly!
Its gentle enough to use everyday! Despite my love of changing up my products (in fear my skin will get used to a great product) I love that I can have that 'change-up' with this one product!
When I took my break away last week, I saved A LOT of space in my suitcase as it was all I needed. This is a holiday staple!!
I score it:
9/10
Shop The mask:
New Hair… Who Dis!
Sleek Virgin Gold Peruvian Review!
I have been hugely inspired by the recent hair trends of "blorange" a.k.a. Peach! So instead of doing a regular review with my new delivery from 'Hair By Sleek' – I decided to do something fun, fresh and trendy!
Watch Me Unbox it!:
The Product Style:
Virgin Gold Peruvian Straight

Before Colouring:
My First Impressions:
The hair was packaged really nicely (check video), I really do appreciate attention to detail when receiving a product.
After taking the hair out, the bundles were a good size – I would say about 100/150g per pack. The hair was smooth, silky, hardly any shedding (unless brushed briskly) and the colour was a natural 1b.
I love full hair so I was happy that I revieced a total of 3 packs! In the above picture, I made a wig and had only sewn in 2 bundles of the seek hair and mixed it with a darker closure and a few tracks from my previous hair to blend the brown tones.
I Lifted the colour of the hair twice using colour freedom cream bleach from Superdrug…
I definitely would use this bleach again, I found it really easy to use!
After colouring:
I used a permenent hair colour L'oreal Colorista in 'Rose Gold'
and then Bleach London's Rose during the wash process.
What Did I think?:
Overall, I am enjoying this hair! At first impression, it looked stunning and having the ability to colour it and bleach it twice and it not falling apart is a great sign!
The curl pattern was straight, so i found that when I had it blended with other Peruvian hair, the curl patterns didn't match. So i would advise that you only blend it with other hair if you are planning on wearing straighter styles.
Also, usually when i curl my hair with a wand, the curls would hold for a week. But I have found that they only seem to hold for about two days with this hair.
Hair tip:
I am maintaining the hair by twisting it at night and wrapping it to protect it. Washing and conditioning is needed as after a week i have found that it has got dry and began to tangle. So with colour it is necessary to maintain it with conditioner treatments and cocounut oil!
8/10
Where to buy the hair:
http://www.pakcosmetics.com/brand/sleek/virgin-gold-brazilian/peruvian-gold-straight-weave.html
http://www.ladyedna.com/en/brazilian-human-hair-weave/1061-sleek-virgin-gold-peruvian-straight.html
Shop my Outfit!:
Sleek Hair 'Fashion Idol 101'
Kourtney Wig Review!!
I always talk about how much I love my clients and how I love working with brand products that I believe in! Well.. Let me introduce you to Sleek's Fashion Idol 101 Synthetic Wig 'Kourtney'.
Full of body, full of texture… full of SLAAAAYYYYY!!…
Watch My Video Review:
The Product Style & Packaging
#Selfie Time
My First Impressions:
This Synthetic wig comes in a standard Fashion Idol 101 box, I got it in a colour 1b.
Some features I love:
Silkbase (style) Free parting
Lace front with baby hair
Baby hairs at the nape so you can put it into a up-do
soft and 'natural' looking texture (not like other shiny synthetic hair)
Long but nicely layered (guessing lengths are about 24, 18, 14)
Can be straightened or curled up to 200°C
Ventilated wig cap
Internal elastic bands – with hooks (to adjust the fit)
Internal comb for "hair flip" security
#Selfie Time.. Again..
What Did I think?
As I instinctively ran my hands through the wig, I looooooved the texture of the hair! It is full-bodied, soft and lightweight. Also, the colour 1 looks really great against my skin I am so glad I picked this natural looking colour.
Wig Tip:
To lay the hair flatter I used a hairdryer on low and a vent brush, this technique is especially good for when I change the parting. I also customised it a little more to make the parting more prominent and realistic by plucking right up to the hairline.
Although I have been wearing the wig for only two days now, I haven't really noticed shedding at all, which is a pleasant surprise.
I noticed a little bit of tangling at the end of the day, but again nothing major.
8/10
Buy the wig:
Let me know what you think!
Shop my look:

Use Code ALL20 – 20% off
Masque Bar Brightening Mask!
#MASQUEBARSELFIE
Tucked up on my sofa trying to "stay productive" and tapping away on my laptop, I realised we all have to clock out and catch up on that much-needed me time! Apart from the long days at Fashion Week taking its toll, I was feeling a little under the weather!
Now, there are some perks to fashion week other than getting a first-hand glance at amazing designer collections! Sometimes if you are seated "FROW" (front row) or at selective presentations, they hand out goody-bags. Now, I haven't managed to go through all of mine yet. I sometimes can be the person that doesn't unpack their suitcase for weeks after holiday *hides face*, but I spotted these amazing masks by Masque Bar as I glanced in the branded gift bag!
Here is a personal reccomendation! – Pampering yourself with a facial and a long, hot, bubbly bath is the perfect prescription for winding down and feeling like yourself again. So I thought it was the perfect opportunity to try out one of my goodies to lift my spirits!
Watch My Review:
First Impressions
I decided to go with the Brightening mask as I have skin pigmentation and was suffering from tired skin!
Opening the lightweight packet was no problem and I noticed as you pull out the sheet mask it is completely drenched (watch your surfaces) but it smelt amazing!
What did I think?
I thought the masks overall design was quite handy. Unlike a lot of other masks which may not take into consideration different face shapes, the tiny cuts all over the mask made it possible to smooth the mask over my face completely.
The mask didn't tingle or give any type of sensations during my 30 minute application which was surprising as most of my brightening products tend to give a little bit of a tingle.
When removing the mask I noticed a slight blur to my skin but the thing that stuck out most to me was my super soft skin! As I type this.. I am literally stroking my face – lol! I felt so fresh-faced with this mask and the effects are lasting!
Mask Details:
So this is a close up of my skin after the mask… Peep my White freckles LOL!
Lets just say, I felt SO MUCH better! Will I be trying another mask?…. er… YES!!
I score it:
7/10
How to get a mask:
Social: @masquebaruk #Masquebaruk
Khase Cosmetics Haul & Review!
Music by Jhene Aiko
Happy holidays guys!
I was so happy to treat myself to some products from Khase cosmetics for christmas! I began following them on my blogger instagram account @byericamatthews and fell in love with their natural lipstick shade Naked!
I am a die-hard lover of nude lip colours. I always used to wear a staple red lip, but as a busy girl I now love the versatility and ease of applying a gorgeous nude shade to my make-up look or even popping on some gloss if I want to go natural!
Here is Naked…
So when I popped open this lustre lipstick I was a little bit surprised! you know that jump out of the chair and grab your laptop to make sure you got the tight item type of surprised!!
I was expecting a soft brown colour but to the eye… I was seeing a pinky rouge. Do-not-panic!
What did i think?
As I glided it on the shade of pink was softer, in fact 'naked' to my lips! This lipstick is definitely sheer. When applied it is almost like tinted lipgloss/vaseline. Surprisingly, the colour can easily be built up to get the colour pigment you like. I also had to sit and remind myself that all natural lips have a different colour! So when applying lipstick I have seen on somebody else, it's going to look different!
Here is Mumba…
Now yo guys have to understand… again! I. Was. Surprised!
I did think it was going to be a deep chocolate colour!
What did i think?
Again as I glided it on to swatch the colour, the shade of pink was softer.
but the colour transformed when I applied it is to my lips (cheek video). I never really go for deep shades of pink so I can definitely see myself pairing this up with a brown lip-lier.
Jus like the naked Lustre lipstick, this cream lipstick can easily be built up to get the colour pigment you like.
Although I didn't exactly get what I expected, the quality and versatility of these lipsticks were amazing.
I will be chasing up to see how I can achieve the colours they have on their website (click here) but I definitely have remembered the dangers of getting sheer lipsticks/glosses.
before wearing these colours, I definitely will prep my lip with a matt nude lipliner and put it on top (image of me above in 'naked' with a nude base).
Hope you enjoyed! xx
@Justineskye x @MacCosmetics 'Must-Have' Film Noir Review!!
So… I've literally been obsessed with Mac Cosmetics 'Raizin' for around 10 years using it as my staple blusher and I was looking for a change!! *hides face*
All I can say is thank God for Snapchat! I follow the gorgeous songstress Justine Skye and get to peek all her behind the scenes there, which is where i got to see her Mac Cosmetics Collab'.
Through each 10 sec video, she selected all her fav products and tried them out on her spotless mocha skin and thats when i met 'Film Noir'….
A deep velvety red, that can be used as blusher, contour and a transition for eye make-up – SOLD!!
About this product:
Rich warm chocolate [Matte]
Powder Blush
High Pigment
Application:
A little goes a loooong way! I love how you can make this product look very natural and then you can build it up to give a more edgy and vamp' look! I remember the first day i wore it was when,my sister went into labour and after all the walking up and down, shop runs and getting the life squeezed out of my limbs… this product stayed put all day!
As mentioned before, I looove this products versatility and boy do I love when a products many uses helps you justify spending money! LOL
Above is a pic of my first attempt at eyeshadow – peek the 'Film Noir' on the eyes and cheeks *side eye*
Product Rating: 10/10
____________________________
Contouring Just Got Easier!
– Pride Magazine Review By Me:
Trends may come and go, but the most requested makeup look regardless of the season or occasion is beautiful contoured skin. The beauty of this look is the way it is able to remold and structure the face without needing to consult with a cosmetic surgeon!
Right now we are Loving Blackup's new range of contouring sticks which is revolutionising contouring with it's simple to use double-ended stick. This product blends seamlessly with your skin and its buildable cream texture with a powdery finish allows you to sculpt your face & features where needed. In celebration of the new 'Beauty' March issue, we are calling this one of our top easy-to-use, must have products which can help anyone create a play of light and shadow worthy of a make-up pro! Move over Mario Dedivanovic!
Here's Some hot tips from professional Make-up artists Ross Andrewartha and Debbie Finnegan on how to ge the perfect contour!
Highlight:
start with the lighter are first which is underneath the eyes, middle of the forehead and slightly towards the temple, down the nose, cupid bow and on the chin. This will really help to brighten, lighten and enhance these areas.
Contour:
Contour where the sun will naturally hit – on the sides of your forehead, around the hair line, down the nose either side of the highlighted section, which makes the nose seem more slimmer and sculpted. You may also choose to bring a contour down your jawline if you have excess skin there.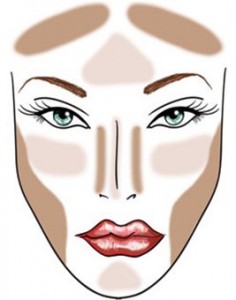 Common mistakes:
Look at your profile – When creating a contoured look, DO NOT forget to look at all angles of your face!
Blend, Blend, Blend! – A big mistake is having the lines looking too strong! Make sure lines are blended with a good brush!
Find the right Colour – It helps to get the right product and shade for the perfect finish. highlight with a product that is one or two shades lighter on the lighter areas of your skin, that way you're just taking the skin up a little notch or two. Then look at the deeper tones of your skin and go a shade or two deeper for the contour.
Keep it simple – Keep the contour simple and subtle and make sure the skin colour compliments your skin
Get your Blackup contouring stick here
____________________________
KARRUECHE X COLOURPOP BEAUTY REVIEW
So apart from being all things "fashion" I thought it would be an amazing chance to share some beauty products that I am obsessed about!
I represent my own brand 'Erica Matthews' and always like to look my best. I love beauty products that are effortless and easy to use! So I will be reviewing products for the lady who doesn't want to put 20+ Products on her face that only look good on camera and scare people when you meet them face to face!
Discovering liquid lipsticks was a dreeeam and I fell in love with a few shades from the Karrueche x Colourpop collaboration! *thanks to my sister for the bring-in*
Lets talk 'Kae'…
FINISH: Ultra Matte
SHADE: Nudes
How to apply:
Step 1: Make sure your lips are bare and dry!
Step 2: Apply matching lip pencil for a precise and perfected application.
Step 3: Apply Ultra Matte Lip with the applicator or your favorite lip brush. **For smoothest finish always exfoliate your lips first!
My Thoughts…
I had googled so many swatches of this product, so I was really confused when I saw the colour of the bottle. the product is very thin and lightweight and is best applied with care. But the pigment/coverage is insane!! the application is smooth and the product dries flawlessly matte!
"It's very long wearing and completely kiss proof!"
I tested… and its very long wearing and after a meal only requires a few touch-ups. this product is easy to layer, but to minimise the feeling of product on your lip (remember it is matte) and any form of flaking, I found the less product you put on, the better!
Tah-Daaaah!…
Lancome Teint Idole Ultra 11/12
Mac Raizin
Demure lashes 'Dangerous'
Maybelline eyebrow duo in Dark Brown
Lets Talk 'Rooch'…
FINISH: Ultra Matte
SHADE: Reds
How to apply:
Step 1: Make sure your lips are bare and dry!
Step 2: Apply matching lip pencil for a precise and perfected application.
Step 3: Apply Ultra Matte Lip with the applicator or your favorite lip brush. **For smoothest finish always exfoliate your lips first!
My Thoughts…
So It was love at first swipe *teeheee*…. unlike 'Kae' I found that I wasn't as shocked with the colour of the lipstick in the bottle. But waiting for this product to dry to reveal its true colour…is evvvvvverything!
Again…. its very long wearing ! I have big lips so found that I had to apply on the inner part of my lip because the red is more noticeable. After a meal, a few sips, it required a few touch-ups. but everywhere else.. it was perfect!
This product is easy to layer, I tested it with a deep plum liner. The pigment was insane!
I love that these colours really adapt to skin tones because it looked so different when my sister tried hers on!
Call it big lip woes…. but because I reapplied my inner lip I could feel the product, which wasn't unbearable. But I tell you this product feels like nothing is on your lips!
again, I found that to minimise the feeling of product on my lip (remember it is matte) and any form of flaking, I found the less product you put on, the better!
Tah-Daaaah!
Lancome Teint Idole Ultra 11/12
Mac Raizin
Demure lashes 'Dangerous'
Maybelline eyebrow duo in Dark Brown
They suggest storing these babies upright and shaking before application!
Swatches in Daylight…
Swatches in light….
10/10
____________________________
Lush Cosmetics 'Magnaminty' Mask Review!
So, January is always a tough month right? The Monday of all months!
I've been recovering from yet another operation I had at the beginning of December and this has left my skin a bit sluggish!
I was thrilled with all the beauty bits and bobs I was gifted over christmas and have been dying to give this Lush 'Mask of Magnaminty' a try. I have never tried any of their infamous products but I always hear my sister trill at how amazing and natural their products are!
One of my New Year Goals is to get into tip-top shape, my health means more than anything right now! After a successful glute-burning session of Pilates I decided to follow my weekly planner and Reward myself with a mini pampering sesh'.
After gently cleansing my face I applied the creamy green mask using an old foundation brush I abandoned and found it really easy to apply. Surprisingly the minty smell was dominant. There was a muted delicious scent which made me scramble for the ingredients list on the pot and of course I nodded when I read my favourite word… vanilla!…
There was an expected tingle after I finished applying the mask… but nothing major.
I spent the instructed 10 minute application in the shower singing to my Spotify Tropical House playlist, desperately trying to avoid my face.
I gently buffed the mask away using the palm of my hand with my face glove (much softer than regular exfoliation gloves) rubbing in the little evening primrose seeds.
I was really impressed! my skin visibly look brighter, tighter and smoother. This miracle pot is aimed at spots and tired skin and I definitely think it gave my skin the wake up call it needed.
I love that this mask is Self-preserving, safe for the face and body, easy to apply, smells great, brightens and clears the skin in 10 minutes and is 100% Natural and cruelty free!
I will definitely be using this in my Beauty routine more often!!
Want to try it yourself? Click Here
Hope you enjoyed xxxo
____________________________
In Love With BlackUp's New Eyeshadow Palettes!!
– Pride Magazine Review By Me:
Make-up trends change from season to season, but we love that Blackup cosmetics products always seem timeless!
Our beauty team are obsessed with their compact Luminous and vibrant '5 eyeshadow' pallettes they have released, making it even easier to look glamorous on the go!
This sleek palette gives you four textures in one palette and allows you to apply a very natural day look, which you can then work into a deep sultry look for the evening!
Pal05 is one of the more more feminine palletes in the collection. The rich Mauve colour (top left) has a Satin finish which gives a gorgeous subtle sheen to the eye, perfect for creating a more edgy natural eye. Next to it (Top Middle) is a warm pink, which on application offers a soft metallic colour with a playful sparkling finish making it perfect for blending. The true underdog in this palette is the deep purple (top right) which gives a high pigmented metallic finish perfect for an evening look.
The Palette retails at £32.00 get yours here!
____________________________
'RING MY BELLA' HANDBAG MUST HAVE!!
'Ring My Bella' Crescent Row Eau de Toilette, 30ml – £29.50
So fiiinally.. after a few months I am finally ready to give my FULL review on a Goooorgeous Perfume from one of my favourite cosmetics brands ..Benefit! I am a huge fan of Benefits Perfumes.. in particular Carmela.. They gave me an AMAZING opportunity to do a review on their Newest addition to their fragrances (which was launched a few months ago exclusively to Bootsbut now you can get it at any Benefit Retailer)!!
Realistically guys… I will never choose to do a review on a Perfume like this again.. very very time consuming *sigh*.. But! I was so inspired that my Benefit Perfumes always lasted me longer than any other perfume I have used, so I thought I would do the review WHEN my sexy bottle finished. When I have previously walked out with Benefits Carmela perfume on.. I would always get at least ONE person stops me asking where I got my perfume from.. NO exaggeration… My Idea was to use the fragrance in Many of the everyday situations that us girls get into.. with that, I was to record the effects and opinions that people gave.. just so you know HOW GOOD IT REALLY IS!..
MY FIRST IMPRESSION:
So when I first got the perfume.. The packaging like the others from the collection is definitely candy for the eyes… *whispers* definitely a gift you should consider this Xmas!! The smell is sweetly seductive with a citrus kick.. which proves to get your senses caught in a 'juicy fling' .. it's surprisingly fresh and light aroma brings warmth and clarity opposed to some of the real heavy over-priced perfumes out there…
HANGING WITH GIRLS/ THE NIGHT OUT:
So, like when shopping.. most of us always turn and ask "what do you think".. the opinion of your friends is a MUST! Perfume choices do tend to be an individual selection.. but let's face it.. your friends WILL tell you if you smell like "a baby prostitute" (#MeanGirlsQuotesILove) or if that perfume is ..let's just say.. putrid *holds nose*. I'll admit.. I did smile when two of my friends asked "mmn.. what are you wearing" when we done our exaggerated run.. scream.. then hug routines! I didn't even have to boast or try to awkwardly fit conversation in about the new perfume! * fist pump* it was described with words like; fresh, fruity and reminders of holiday.. Which I totally agree on.. Later I was regretting that I didn't tell them it was new shower gel.. because when we decided to go out that evening.. everyone was leaving their perfumes and sprays in the bottom of their clutches and asking to have a "quick ring (spritz) of Bella" LOL!
AT WORK:
So this proved to be much more difficult being someone who (at that time) is not in an Office, shop etc. Full Time. So I used my photo shoot day to my advantage.. I know I could be a lot more cheekier with my MUA friend Chanel Boateng and ask her straight up what she thought. It was a hit with her.. fresh and light.. but she did say she is not the HUGEST fan on sweet smells.. and too much was too much when I myself and the whole team were testing it out on ourselves LOL!!… poor photographer…
THE DATE:
Gawsh.. anyone who knows me.. knows I'm not too much of a fan of dates.. For many reasons including the feeling that I'm going to have that Bridget Jones/ Miranda moment where I trip.. slap someone in the face.. something flies into my eye and then my skirt gets caught on something which exposes my knickers.. (nothing like that has happened.. yet..) *covers face*… But for the love of 'Ring my Bella' and all you women out there.. It was for you LOL! Someone's fragrance is always something that greets you when getting into the car.. Sooo I was more than happy when I heard.. yes.. I HEARD (not imagining things I tell ya).. him take in a deep breath and then saw him smirk.. so I took that as a good sign right?.. he didn't open the window or start sneezing LOL! So I went in for the kill.. the hug.. and there it was again.. the deep breath.. "mmn you smell nice..". .. Oh I kid you not.. this could have been perfect advert.. me just taking the bottle out of my bag and meeting eyes with the camera doing that slow nod *LOOOL*
THE GYM:
So this is for those of us who are not gyming it out on the Wii Fit board but trudging of to the good old gym to work up a sweat!! I am one of those that makes that promise "from Monday, I will be going to gym at least 3 times a week" and then Tuesday I'm sitting on the sofa scoffing a Krispy Kreme Doughnut *LOL* So I thought let's keep to the 'promise' and see how it lasts.. By this time.. I was getting use to the perfume but with a lift a kick and a very slow squat.. I got bursts of Bella.. and it was gorgeous. I weirdly felt at least If I look a mess.. I sure smell great LOL!!
Benefit are offering some AMAAAZING Gifting Ideas!! So why not get your hands on this Perfume one (for yourself or) for a woman in your life who would LOVE IT!! better yet.. you have an option of breaking up the set to give as lush stocking fillers!!!
Benefit – RRP £29.50… BARGAIN!!!
Available at any Benefit Counter!!!
"LAUGHTER IS THE BEST COSMETIC…SO GRIN AND WEAR IT!" – BENEFIT
____________________________
MY REVIEW ON HELLO FLAAAWLESS OXYGEN WOOOOW FROM BENEFIT!!
Hello Flawless Oxygen Wow Brightening Makeup colour Hazelnut by Benefit £24.50,
Hot looks Nail polish colour Hoola Hoop by Collection 2000
I haven't STOPPED talking about it for the past few weeks!! Benefit have come out with a goooorgeous liquid foundation which gives amaaazing coverage!! I have been waiting for the moment when Benefit would expand their shades, so I literally JUMPED at the opportunity to try it out when I saw they had!!
Left: Benefit Foundation / Right: No foundation (Sleek Cosmetics concealer on eyebrow)
It's a brightening liquid Foundation which leaves such a flawless and natural complexion that leaves you looking like your not wearing a THING!! Its hydrating complex boooosts cellular respiration to give that 'plumping effect' and best of all its a barrier from the environmental stresses and locks in that Vitamins C and E goodness… which have you knoooow are Vitamins which help to prevent Ageing of the skin!! *crowd of women cheer*..
I kid you not.. this is not photoshop business!! (photos taken on my Apple IPhone).. I LOVE IT!! it's really lightweight and when built up.. it helps highlight eyebrows, cheekbones and nose.. NATURALLY!
I always find with my Fashion Styling life… late nights and early morning are always given away on my face.. so Flawless and lightweight foundations are everything I look for just so I could get that quick fix!!
Make-up done by Kara Matthews, Head Wrap by Gundrun Sjoden @ Varg PR
So I had my Gorgeous sister do a quick bit of Make-up on Half of my face to show just how much it can bring your complexion back to life in the best possible way… Looking Natural!!
What Else Did i Use??
From Left to Right: Hello Flawless Oxygen Wow (Brightening Makeup) colour Hazelnut by Benefit £24.50, Powder Blush colour Raizin by MAC Cosmetics £17.50, i-Divine Palette colour Sunset by Sleek Makeup £6.49, Liner Feutre colour ultra Black by Bourjouis £6.99, Mascara colour Raven by Topshop cosmetics £8.00, Rouge Coco Shine colour Boy by Chanel £23.00.
I Look forward to doing more reviews with Benefit!! I hope you enjoyed!! And I DEFINITELY recommend you head down to your closest Benefit Counter and try it for yourself!!
____________________________
BRING THE SUN WHEREVER YOU GO THIS SEASON WITH BENEFIT SUN BEAM!!
We didn't have much of a summer this year and we were whipped into bitter autumn at the snap of a finger!!

So why not choose to bring that summer sun glow with you wherever you go with Benefit cosmetics amazing product Sun beam!!
Glowing skin is known to help you to look healthy, hydrated, full of life and younger!!
I love the fact that I can cut corners and have an instant boost with this ONE PRODUCT!! *crowd of women cheer*
Above are the products in my Make-up bag that Make-up artist Kara Graham used to create my natural Glowing look for the wella trend awards 2012 I was styling Shingai Shoniwa from the noisettes for!!
(from left, clockwise) Urban Decay Naked Palette 1, Sleek Au Naturel, Sleek Molten Metal, Fashion Secret Gel Liner, Fashionistaa Supermodel Lengthening (I LOOOVE THISSSS), Mac Matte blusher Raisen, Benefit Cosmetic Flawless oxygen Wow, Sleek 'Hide it' Concealer.
What I love about this product is its simplicity.. it can be used to highlight on the cheeks, cheekbones, brow-bone and nose. This product also offers easy on-the-go application with its nail varnish brush.
This product is small and therefore easy to carry on the go in your make-up bag, handbag and even your smallest clutch!!
The style & Beauty doctor
The simplicity of this product is a reliable 'what you see is what you get' product… I have seen a lot of reviews on this product for lighter skin tones… but you can see that it doesn't make me look grey like many 'bronzing' products tend to go!!
working in fashion.. sleep is like Gold dust.. so on days I am exhausted from work, this product truly fools my team!! In fact… I'm not quite sure how I was able to do without this product before.. LOL!!
I have had this item for a few months.. and It is still full!! So retailing for £18.50 this is a MUST HAVE!!
Click here to buy yours!!
I give this product…
SCORE 10/10
it truly gets my thumbs up!!
Enjoy the glow!! xxxo